Sometimes we can be too tired (or lazy) to even wipe the dust from the table. But a clean house is essential for our health and well-being. According to this study, we spend around 87% of our time indoors. So if we don't find time to making our homes tidy, it directly impacts our health.
We at SmallJoys know how difficult it can be to set yourself up for cleaning. That's why we prepared a list of cleaning hacks that will surely shorten the time you usually spend on scrubbing, washing and brushing.
1. How to whiten grout?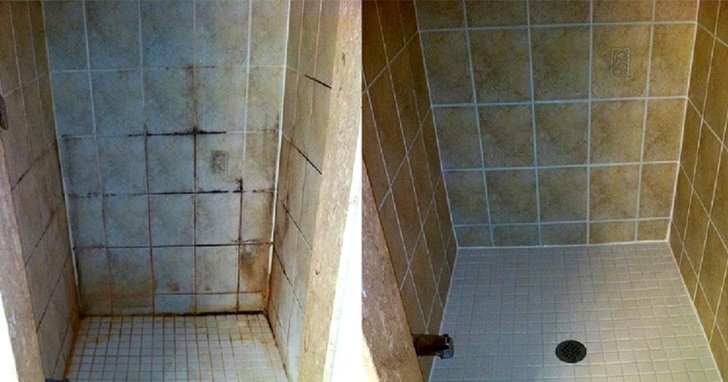 We have found an effective cleaning method for those who have already forgotten that the tile grout in their shower stalls used to be white.
What you will need:
Add baking soda to vinegar and mix well until it has a thick pasty texture. Apply the paste on the grout and wait for up to 30 minutes. Scrub the grout with an old toothbrush until it is clean. Rinse the surface with water.
2. How to remove sweat stains from a mattress?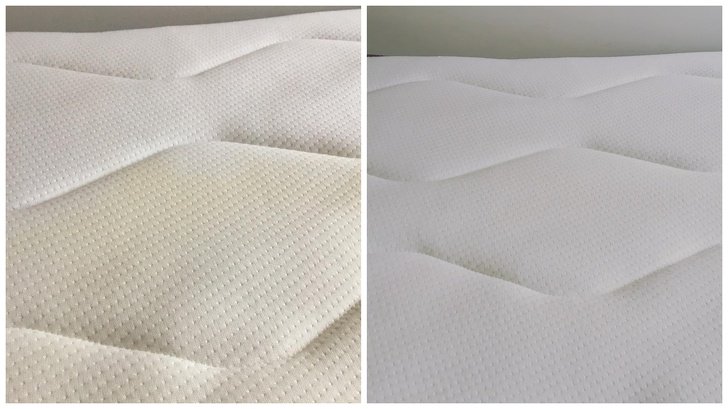 A mattress plays an important role in our lives, keeping us (and our dreams) healthy. But people usually do not know how to clean it properly. If you want to prepare the place you sleep for a pleasant dream time, follow the advice below.
What you will need:
Powdered detergent
Warm water
Mix 1/2 tbsp of powdered detergent with 250 ml of warm water. Add the blend into a spray bottle and spray it on the mattress. Scrub for several minutes and prepare to have the best dreams.
3. How to clean an iron?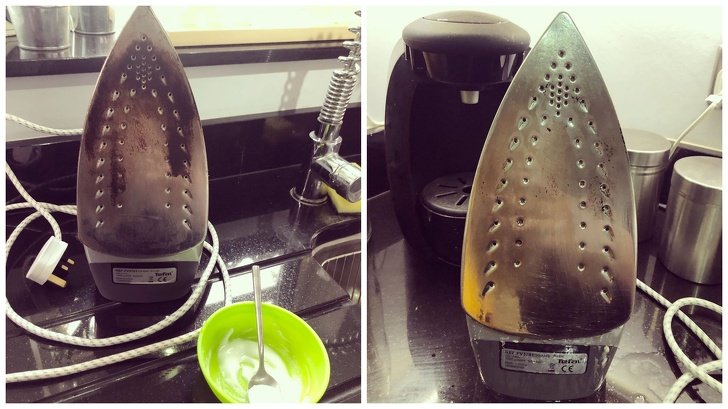 This has probably happened to almost all of us. Once, trying to fix this issue with salt, we broke our iron. And now we found a safer solution for you.
What you will need:
Baking soda
White vinegar
Warm water
Add baking soda into warm water and mix well until you get a pasty texture. Apply the paste to the iron surface. Wait an hour and wipe it off. At the end apply white vinegar and enjoy the results.
4. How to get stains and smells out of a cutting board?
A cutting board is often one of the most used items in a kitchen. It's no wonder that we should pay more attention to its cleaning.
What you will need:
Lemon
Salt or baking soda
If you want to remove stains and smells from a cutting board, take a cut side of lemon and apply it over the board. You can also sprinkle it with salt or baking soda first for extra cleaning power.
5. What should I do if my washing machine smells?
A smelly washing machine is a pretty common problem. And no, a cat won't help. You can get rid of unwanted smells in 2 steps.
What you will need:
Baking soda
White distilled vinegar
Add one cup of soda to an empty drum and run the longest, hottest wash. Then repeat the first step, but add 0.5 l of white distilled vinegar instead of soda.
6. Is it possible to clean your microwave oven in under a minute?
The answer is yes! If you do not believe us, try the method below.
What you will need:
Soak the sponge in vinegar and put it inside the microwave oven. Switch the microwave oven on for 30 seconds. Wipe grease and stains off with a piece of cloth. Do not touch the sponge until it cools, to avoid burns.
7. Is there any multifunctional cleaning staple?
With the following product you will be able to clean stainless steel, polish wooden furniture, and remove dust.
What will you need:
Lemon juice
Olive oil
White vinegar
Mix the ingredients and use to make your house clean within minutes.
8. Is there any way to remove grease and dirt from kitchen cabinets?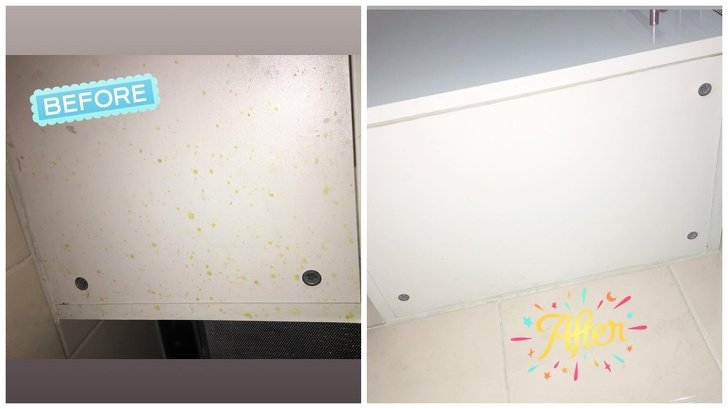 Cold grease can be a real challenge. But, fortunately, there is a simple solution.
What you will need:
All you need to do is to turn your kettle on and open the lid. Don't forget to put the kettle under the cabinet in question. The steam will melt the grease so you can wipe it off with a sponge with one swipe. Keep in mind that this method might harm the surface due to extensive moisture, so this method is good only if it is performed rarely (for example, you don't have much time and are expecting guests).
9. How to get rid of water stains on wood?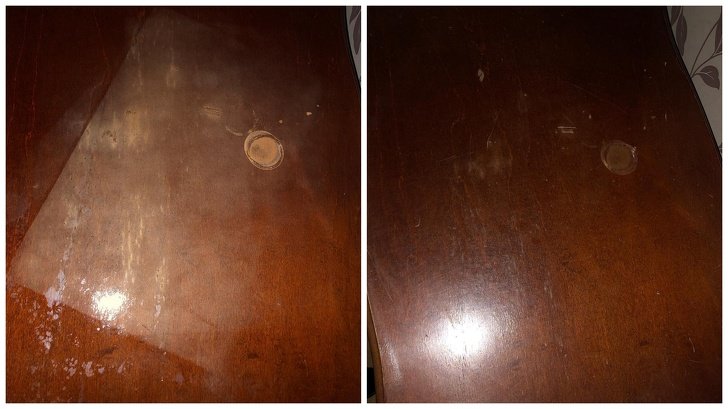 Wood luster can easily be damaged by watermarks. They are often caused by spills, hot dishes, or the wet bottoms of glasses. Luckily, it is possible to remove them.
What you will need:
Iron with a steam function
Towel
Place a towel over the watermark. Turn your iron on and set it to hot and high steam. Press the steam button while ironing. Keep ironing until the water stain disappears.
10. How to save a burnt dish?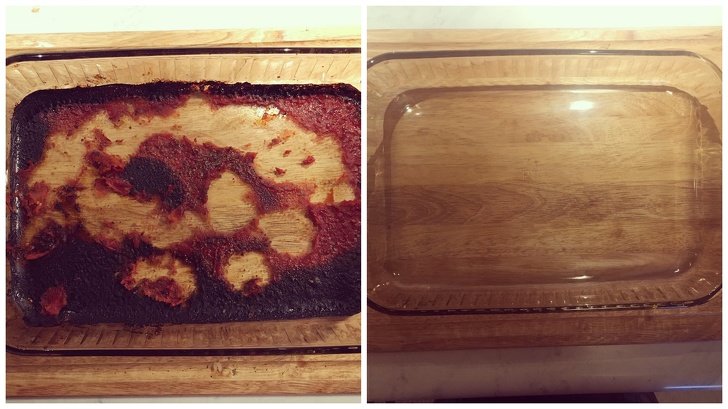 Food can make you feel like you're on top of the world, but the pile of dirty dishes afterward seems to be a punishment (just to keep everything in balance). Here is a small hack on how to deal with burnt dishes.
What you will need:
Baking soda
Hot (but not boiling) water
Mix several tablespoons of baking soda with hot (but not boiling) water and fill the burnt dish. Wait for some time so that the grime loosens up. Wash the remains without a headache.
11. What to do if my white sneakers have become black?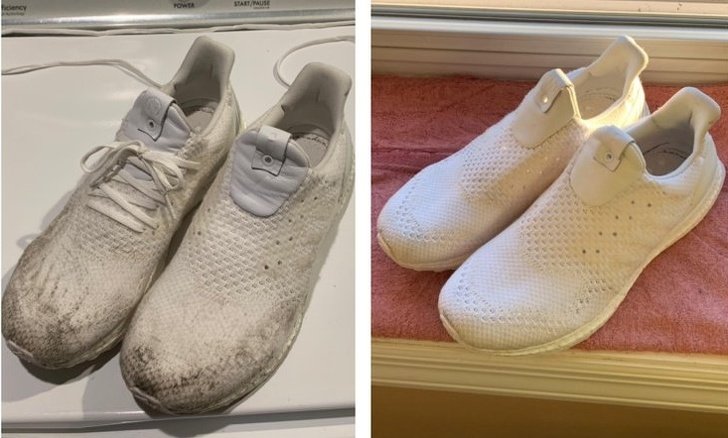 Some people may be uneasy about their wish to buy white footwear since it seems so hard (or even impossible) to clean. But the picture above confirms that nothing is impossible. The process takes some time, but the result is worth it.
What you will need:
Washing machine
Pillow case
Toothbrush
Any detergent
Clean the bottom of your footwear to get rid of small stones, dirt, and other objects that can destroy your washing machine. Put the footwear into the washing machine inside of a pillow case. Run a wash cycle at around 30—35°C. When it is finished, scrub the remaining dirt off with a soft toothbrush and detergent.
12. How to clean a microfiber couch?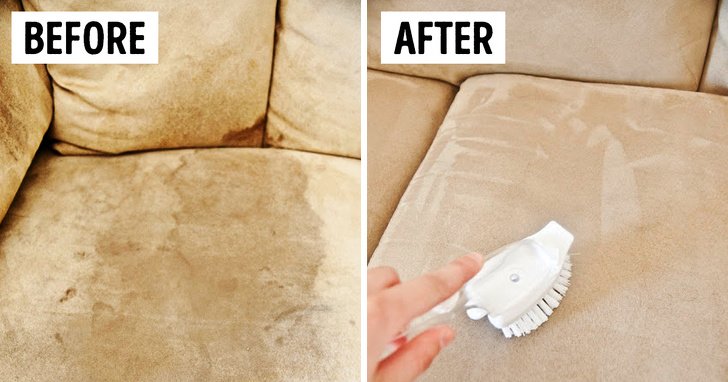 Microfiber couches look great, but like other furniture items they can become dirty and dusty with daily use. Here is a cheap and simple method that will give your microfiber couch a new life.
What you will need:
White sponge
White bristle brush
Rubbing alcohol
Spray bottle
Pour the rubbing alcohol in the spray bottle, saturate the stained area, and scrub actively with the sponge. If the sponge gets too dirty, replace it with a new one so you do not rub the old dirt into the clean areas. Wait until the areas you cleaned are completely dry and re-fluff those areas with the bristle brush.